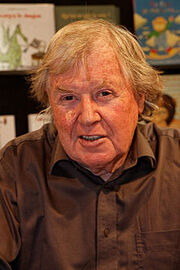 David McKee
(born 2 January 1935) is a British writer and illustrator, chiefly of children's books and animations. He has used the pseudonym
Violet Easton
. He is frequently referenced as David (John) McKee. He run the production company,
King Rollo Films
, who animated the
Towser
episodes
.
For his contribution as a children's illustrator he was U.K. nominee for the biennial, international Hans Christian Andersen Award in 2006.
Biography
McKee was born and brought up in Tavistock,South Devon, England. After attending the local grammar school he studied at Plymouth College of Art. While still at college, he started selling one-off cartoons, particularly to the national press. On leaving college he continued this in order to support himself while painting, drawing regularly for, among others, Punch, Reader's Digest, and The Times Educational Supplement.
The first book that he sold was of a story he had told at college, Two Can Toucan. It is about a Toucan who can carry two cans of paint on its enormous bill. This was published by Abelard-Schuman in 1964; a 1985 edition with new illustrations by McKee was re-issued in 2001 by Andersen Press.
McKee was awarded an Honorary Doctorate of Arts from Plymouth University in 2011.
Film
The BBC used some of McKee's books on television and asked about the possibility of films. This led to McKee's first films, a series about Mr Benn. Five films for the Save the Children fund followed, then a series of films based on the King Rollo books, with two friends, Clive Juster and Leo Nielsen. The company King Rollo Films was started. The company maintained its success, with McKee being involved on projects usually as a writer. They have been responsible for various films including Tony Ross's Towser, Eric Hill's Spot the Dog, and Lucy Cousins's Maisy. The company plans to produce 26 animated films of Elmer.
Books
McKee has produced several characters that have developed into book series, including King Rollo and Mr Benn. Another famous creation is Elmer the Patchwork Elephant. Elmer is now published in more than 20 languages and has spawned a range of merchandise, including soft toys, from London Emblem and other companies worldwide.