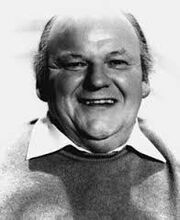 Roy Mitchell Kinnear
(8 January 1934 – 20 September 1988) was a British character actor. He narrated all 26 episodes of Towser as well as providing the voices for all the characters. He was familiar to UK audiences for his appearances in many British television comedy shows, and is also remembered for his film appearances as Veruca Salt's father, Mr. Salt, in Willy Wonka & the Chocolate Factory (1971) and as Planchet in Richard Lester's The Three Musketeers and its two sequels.
On 19 September 1988, Kinnear fell from a horse during the making of The Return of the Musketeers in Toledo, Spain, and sustained a broken pelvis. He was taken to hospital in Madrid but died from a heart attack the next day. He was 54 years old. He is buried in East Sheen Cemetery.
After his death, Kinnear's family demanded an official investigation into the level of medical care he had received in Spain. Director Richard Lester decided to quit the film business as a direct result of Kinnear's death.