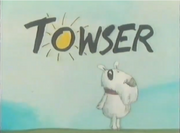 Towser is the creation of children's writer and illustrator Tony Ross about a clever dog called Towser. The books were published by Anderson Press and was later adapted into a children's television show.
The show is narrated by Roy Kinnear.
All 26 episodes of the show are available on various videos.
Description
Towser is an 80's British Children's TV cartoon which started life as a series of books created by prize-winning author Tony Ross.The programmes were narrated by the late Roy Kinnear and Twenty-six episodes (each lasting 5 minutes) were produced. Towser was first shown on BBC in 1982 before appearing on Children's ITV in 1984 and was animated by Leo Nielson of King Rollo Films Ltd.The show began with:
'Towser is smart (but not too smart)
Towser is brave (well, resourceful anyway)
Towser is considerate (but not soppy)
Towser is appealing (or so he thinks)'
Undeniably a dog of the world, Towser encounters some amazing friends and adversaries on his travels. The good guys are Sadie, the Wizard and the Magician. The not-so-good guys include Goblin Gobble, the Nosey Parker, Captain Rat and the Alien Invader
Synopsis
Towser is a sweet tenacious terrier created by prolific artist and author Tony Ross. He was brought into animated life with the help of the equally prolific David McKee and King Rollo Films - Mr McKee being the creator of Mr Benn, of course. Towser dwelled in a semi-medieval world, where there were castles and all the expected chivalrous characters and furnishings yet there were also comfy armchairs and suitcases and modern accouterments. A seemingly odd mix, then, but it all gels perfectly and each tiny tale features a little pinch of irony, a tiny twist to savour.
Towser's close pals include a king known only as The King, a cat called Sadie and The Owl, and his esoteric adventures introduced us to the likes of The Terrible Thing, Dr Smelly, Goblin Gobble, The Lion, Captain Rat, Sir Lance, The Witch, an alien, and most bizarrely of all, a strange blue beaky-bird called Nosey Parker. 
Several of Tony Ross' Towser stories have been published by Andersen Press, amongst them "Towser and Sadie's Birthday" which collected a Silver Paintbrush Award for Best Illustration By A Foreign Artist. There have also been further adventures which never appeared in animated form, such as "Towser and the Monster Egg". 
Towser is noticeable for having been narrated by the late actor Roy Kinnear. Roy also gave us the voice of that super dimwit Bulk in Siriol's SuperTed series.
Basic Information
Genre: Animation
Narrated by Roy Kinnear
Country of origin: United Kingdom
Original language: English
No. of seasons: 1
No. of episodes: 26
Running time: 5 minutes
Production company: King Rollo Films
Original channel: ITV
Original run: 11 September 1984 – 16 October 1984
External Link
Gallery
Community content is available under
CC-BY-SA
unless otherwise noted.